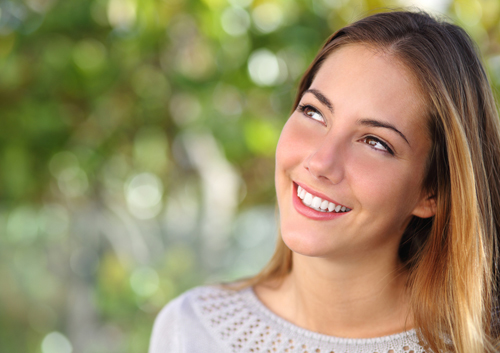 Patients who want corrective braces but don't like the look of traditional braces with the metal showing on the front have an alternative to lingual braces. As opposed to metal braces visible across the front of the teeth, lingual braces are placed on the rear of the teeth. Most of the metal in lingual braces is not visible to other people unless you have widely-spaced teeth.
Benefits of Lingual Braces
The primary benefit of lingual braces is that the metal is on the back of the teeth, which is very rarely seen by anyone. Patients can comfortably talk and smile, without the added worry of someone noticing the metal braces on their teeth. Another advantage of lingual braces is that they are just as effective as traditional braces and are worn for the same amount of time. They are also helpful for people who play contact sports or wind instruments because lingual braces don't get in the way. Finally, lingual braces are a great option for patients who are sensitive to plastic and can't wear other types of clear or invisible braces.
Who can get lingual braces?
While many patients qualify for lingual braces, not everyone who needs corrective orthodontic treatment will be a good candidate. The best candidates are teenagers and adults with normal-sized teeth. Children who get braces often have smaller teeth, so lingual braces may not be suitable. A patient's bite also makes a difference, because a deep vertical overbite makes lingual braces difficult to place.