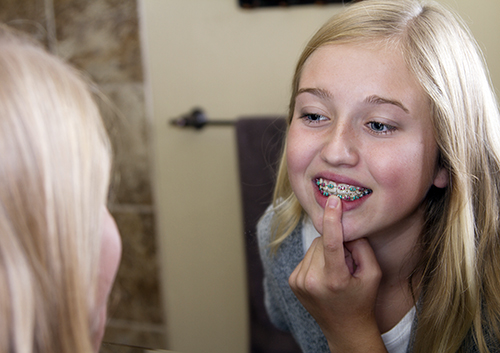 One exciting part about wearing braces from Timothy Foley DDS, M.CI.D, FRCD(C) is getting to choose the colors of your rubber bands. Orthodontists place elastic bands, or ligatures, over each bracket to secure the arch wire in place. These rubber bands may be individual or connected, depending on your mouth's needs. From Dr. Timothy Foley, you have the option of choosing the color of your elastics, which are changed about once every month at every visit. Our offices keep a color wheel handy to help you choose which ones suit you best!
Braces Rubber Band Allow for Self-Expression
Children and teens often enjoy picking different colors each month to express their creativity and coordinate their braces with outfits. Decorating your mouth with your favorite colors is fun for kids and takes some of the stress out of wearing braces. Adults who wish for subtlety have color options that blend in with the metal brackets and arch wire. Common choices for adults include silver, clear, and gray tones.
Common Color Combinations for Rubber Bands
With individual ligatures for each bracket, you may choose different color combinations for special events. You can have alternating colors or place an entire rainbow over your teeth. Here are a few options to consider:
School spirit colors
Favorite sports team colors
Patriotic colors
Holiday themes
Some patients choose only one color to match their mood, personality, or favorite outfits. The palette of choices allows you to make bold statements with your braces or go for subtler tones that blend in with the metal structures. Keep in mind that bright colors make your teeth look whiter, while lighter shades, such as yellow and white, may cause your teeth to appear less bright.
What Your Braces Rubber Band Colour Say About Your Personality
Red.
You're intense and forward thinking, and that you won't back down no matter how big the challenge. Red is also the color of the heart, so red rubber bands indicate that you're a caring, loving person.
Blue.
Blue means you're chill – as cool as a cucumber. You're one cool customer, as the saying goes. You're relaxed and calm, even when your mom says you can't chew any gum or eat popcorn because of your braces.
Green.
Look at a traffic light and green means go, right? So you're the type of person who's always on the move. Go, go, go! It also means you're generous and kind. Green is the color of nature and spring, so it says you love Mother Earth. Perhaps you even recycle. Green is the color of good luck.
Orange.
You're daring and wild, flamboyant and fun. Orange may indicate you're an artist or a drama student. It says you have a big personality and that you don't care what other people think about you. However, orange is also the color of balance and energy. And being flamboyant and fun takes a lot of energy!
Purple.
You're the creative type, for sure. You beat to a different drummer and think outside the box. It says you're mysterious. Purple is the color of royalty, and when you wear your purple rubber bands you are royally cool.
Pink.
You are a loving, caring person. You like to have fun and play games. You like to make jokes and have endless laughter. Pink is a romantic colour, which can represent your caring personality.
Want Unique Color Combinations?
What if you can't choose just one color? Well, you can decorate your teeth with alternating colors. You can choose the colors of your favorite sports team or holiday colors like red and green. If you're still stumped as to what colors to choose, ask Dr. Timothy Foley or a member of our team. We can let you in on all the trends our other patients are sporting at our London, ON office!